"There is an emergency," my assistant interrupted my consultation. I excused myself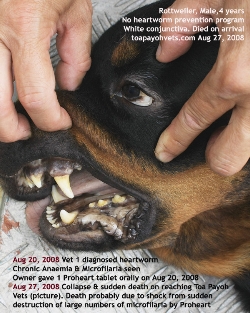 and walked quickly to the outside of my Surgery on this bright sunny afternoon of August 27, 2008. The eyes of the other clients followed my move to see a large Rottweiler struggling to stand up.
My assistant inserted a thermometer to take the rectal temperature. It was 39.9 deg C. The male Rottweiler shook and shivered on the floor as if he had an epileptic fit. Within a few seconds, he collapsed and stretched out motionless on the floor. He died fast. I examined his eyelids and opened his mouth. The eyelids were snow white. The mucous membranes of his mouth and tongue were cyanotic.
"Doc, what happened?" the gentleman asked. "Last week, my workers brought the dog to Vet 1 for treatment of coughing. Vet 1 said he had heartworm infection. Vet 1 gave me Proheart tablets to bring home and give them once a month to the dog. The dog did not feel well for the past few days and I bring him to you."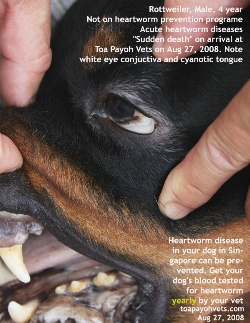 "From the signs, the dog died due to a lot of internal bleeding," I said. "Why did you give Proheart tablets when the dog was suffering from heartworm infestation?" Proheart tablets are meant to prevent heartworm infestation. When a dog has heartworms, he should be treated by another drug but not Proheart.
"There is another Rottweiler - a female," I remembered having sourced a pair for this gentleman. The female had no signs of coughing and was eating normally.
"Get her tested for heartworm." I advised. She was tested positive for the microfilaria, but her blood sample did not show anaemia. She still had healthy pink gums and had no fever. Therefore, her heartworm infestation was
mild
. At this stage, X-rays of the heart and nearby blood vessels were not taken although it would be ideal. The owner had a budget for treatment and X-rays would increase his costs.
The owner kept the appointments to get the female injected on 2 days by a drug called
Immiticide
into the left back muscles on August 29 and then on the right back muscles on August 30, 2008.
Then she was rested in a cage for one month, that is, without exercise. After one month, the owner brought her for blood testing. There was negative heartworm and no anaemia.
"You can either use Proheart tablets to give her monthly or get her a Proheart injection yearly," I advised. "As the tablets come in six tablets per package, you will need to remember to buy the tablets every 6 monthly." The owner opted for the injection.
Did Vet 1 give him Proheart tablets after diagnosing heartworm via blood tests? He or she would open himself or herself to a case of medical negligence.

I did not instigate the owner to commence legal action. The burden of proof of medical negligence would be on the owner. The only beneficiary would be the lawyer who would charge thousands of dollars and that would not be good for this gentleman.

I just felt sad that this dog was one I helped the owner to buy and therefore had vaccinated him as a puppy. He did not come for vaccinations after puppyhood. The owner had high expectations of the pair producing babies but nothing happened.

After the excitement of puppyhood, many Singapore dog owners forget about the yearly vaccinations. Many bring their dogs to the groomers to beautify the dogs every 2 months. But when it comes to vaccinations, they forget about it. When they are told about heartworm prevention, they are simply not interested. With better education, the younger dog owners are more careful.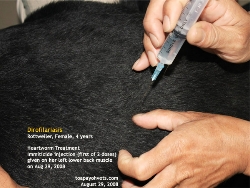 As at January 29, 2009, the female Rottweiler is in good health as I write this case. The owner brought a male Rottweiler soon as Singapore does not have many Rottweilers for sale at any one time. I did not get to see the puppy. The puppy was given Proheart tablets monthly. I expect the owner would not forget the monthly medication. In conclusion, no heartworm prevention tablets should be given to a dog with heartworm infestation in general. As Immiticide injections are very expensive, it is hard to expect stray dogs to be treated with this drug.

NOTE: Additional Tests:
X-rays of the heart and the blood vessels (swelling of right side of the heart and blood vessels, view of adult heartworm), blood tests for anaemia (eg. severe anaemia indicates severe infestation) and urine tests for proteinuria (marked urinary protein loss indicates severe infestation) are ideal to determine the severity of heartworm infestation and the progress of Immiticide treatment. The financial costs of so many tests need to be discussed with the owner first as the overall cost of treatment amount to over $2,000 in Singapore and gives the owner a financial shock. In this case, only blood tests before and after the Immiticide injections were carried out so as to fit the budget of the owner.