TWO CHEEK ABSCESSES IN A RABBIT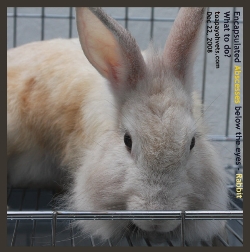 Cheek abscesses are common in rabbits. Thick sticky pus. The roots of the teeth are infected and the infected impacted teeth will need to be extracted. However, it may not be possible to take out the roots as the mouth access is difficult. Therefore, there may be a recurrence of abscess.

If the owner ignore the abscesses, they may swell considerably. By then, the rabbit is under great stress and may just die under anaesthesia or after surgery. This is a factor to be considered as many owners think that all pets will have no problem in anaesthesia. There will be deaths if the patient is in poor health and under great stress of infections.

Nowadays there are safer anaesthesia for rabbits. Still, the owner needs to get the abscesses treated early. My practice is not to rush into surgery but to stabilise the rabbit for at least 24 hours and give antibiotic injections. X-rays of the teeth are advised as impacted cheek teeth and infected jaw bone can be seen on X-rays. There are 6 upper cheek teeth and 5 lower cheek teeth on each side of the rabbit.

When the rabbit stops eating hay (as in the 2012 case, Jaw abscess in the rabbit ) or is not given sufficient varieties of hay or is not eating, the cheek tooth does not grind normally. The edges of the cheek tooth forms spurs. This leads to malocclusion of the cheek teeth. This malocclusion leads to abnormal pressure of the upper and lower cheek teeth against one another. The pressure leads to tooth roots being impacted, elongated and then inflamed. The inflammation leads to infection in the roots and the surrounding jaw bone (see X-rays in Jaw abscess in the rabbit). The cheek teeth's root gets bacterial infection and one or more jaw abscesses (swellings) are seen.

In this case, the rabbit had 24 hours of rest before surgery. He did not die on the operating table. The lady owner's eyes brightened when she saw the rabbit with non puffy right cheek on the 3rd day when she would take the rabbit home. I told her that the pus might recur as it was not possible to extract all the roots of the molars.