Toa Payoh Vets Clinical Research
Making veterinary surgery alive
to a veterinary student studying in Australia
using real case studies and pictures
Does Size Matter?
Dr Sing Kong Yuen, BVMS (Glasgow), MRCVS
July 25, 2009

I never gave the plants along Orchard Road a second look if I ever went to Orchard Road. They usually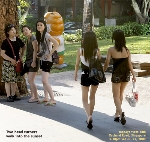 looked like jaded office workers, their surfaces blanketed with the grey particles of vehicular exhaust smoke. If only plants were head turners, I would enjoy my visit to downtown Singapore. The youthful two-legged head turners may not appreciate me taking photographs of them. So, if there are attractive and diverse numbers of urban greenery, they would be great for photography.

While walking along Somerset Road, part of downtown Singapore, to meet a group to network and talk about setting up a match-making agency on this fine Saturday afternoon of July 25, 2009, I was greatly surprised to see a lady pointing her camera phone to take pictures of some short plants along Somerset Road. These plants looked healthy and green, as if they were recently planted. They had the vibrant youthfulness of green chlorophyll as they were well nourished in a nursery before being re-planted. No brown edges and fungal spots in most of them.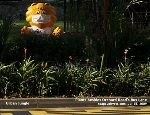 I had never thought of taking plant pictures along downtown Orchard Road in Singapore. Till this lady opened my eyes to this theme. The evening sunlight was great for taking pictures of plants but I had a meeting to attend to.

I went to No. 5 Emerald Hill and waited. The lady who arranged the meeting with prospective shareholders did not turn up nor phoned me that the meeting was cancelled at the last minute. "It is OK," I did not expect her not to phone me as she was the mover and a marketing person.

No need to get angry. The golden rays of the evening sun beckoned. I had the opportunity to photograph the urban jungle. Downtown Plants were a new theme for me. I get tired of photographing the same theme of shoppers and shopping malls every time I go to downtown Singapore.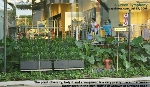 From Emerald Hill, I walked towards Singapore's second latest mall opened in 2009. I was greatly surprised that Orchard Central Mall which I had not visited since its opening this month had so many fresh plants outside its borders. Big ones. Green ones.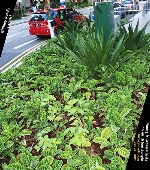 Vitality oozed out from these plants as they were newly planted. There was something different in the way the plants had been positioned and selected. It was like a green symphony from the Orchard Road end to the Killiney Road end. The plants from the competitors across the road look ghostly and withered. Half dead. Brown edges and dull leaves. Withered like sick negative-thinking old men and women, waiting to die.

Such is the nature of new competition. They bring in a fresh concept and look to give themselves a unique selling proposition. But do big-leaved and fresh green plants attract the urban shoppers to come into Orchard Central? Does size matter? I am talking about the size of plants. What have you been thinking?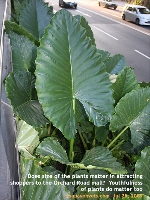 I think size does matter. The big leaves and tall plants attract the attention of the urbanised young shoppers. But there is more to size. The plants must be youthful. Vitality. Freshness. Clean and green.

They will definitely attract the young people who are nowadays visually attracted to things compared to the older generation. The young prefers glitz to the content. Singapore's shopping malls have the same franchises and types of businesses and have become very boring. You see one, you see all. So I was surprised to see that Central Mall has a new concept. No anchor tenant. New types of franchisees. Maybe they ought to have a veterinary clinic for their targeted clientele's small pets. This animal clinic is not a new idea as some shopping malls do have one.

Besides big and green plants, the shops need to have a variety of trades. That is the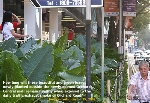 content which will ultimately win over the sophisticated shopper and tourists. Still, there must be something outside to get them to the door. And that will be tall, green and youthful plants.

The plants must be maintained very well as traffic smoke adversely affect their health. How to do it? Whose responsibility is it? Where does the money come from? Who cares about plant health? If plant maintenance is not done regularly, plants just become dead wood. Like jaded old retirees who are waiting to die. This concept of regular and frequent maintenance and rejuvenation apply to all businesses and life.

I was stood up this Saturday. But I had the bright rays of the golden evening sun that permitted me to take some attractive pictures of downtown pavement plants to share with readers. Every time I see the pictures, I get reminded of a veterinary salesman whose favourite phase in the Hokkien dialect is: "Singaporeans want things to be 'green' and 'cheap'". Well, the plants in these pictures are definitely "green". I doubt they are "cheap."

OK, the plants are not head-turners. I have tried to include some people and cars inside the picture to make them come alive and tell readers to live life to the fullest. I hope that older readers enjoy appreciating their youthfulness and green colours. And feel young and passionate once again.

Copyright © Asiahomes Internet
All rights reserved. Revised: July 28, 2009
Toa Payoh Vets