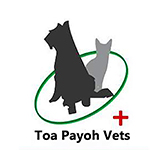 TOA PAYOH VETS PTE LTD
toapayohvets.com
Blk 1002, Toa Payoh Lor 8, 01-1477, Singapore 319074. Tel: +65 6254-3326, 9668-6468, judy@toapayohvets.com, 99pups@gmail.com
Focus: Small animals -dogs, cats, guinea pigs, hamsters, pet rats and mice, birds and turtles
October 05, 2020

A Dwarf Hamster has electro-surgery of the ear
Case study written in 2010
Dr Sing Kong Yuen, BVMS (Glasgow)

1. E-MAIL TO DR SING KONG YUEN Jan 8, 2010

Subject: Enquiries on Dwarf Hamster - Ear Irritation

Dear Doctor Sing,

Happy New Year to you & I hope this email finds you well.

I would like to seek your advice on one of my dwarf hamsters. She's currently 1.5yrs old and has been in good health all these while. Just 2 days ago, i notice that she is excessively scratching her right ear & it became obvious that the outer ear area turns red and slightly sore.

Few months ago, my other male dwarf hamster (Name given) had ear infection as the bathing sand and bedding went into his ear. He recovered after treatment by you in Oct 2009. (Dr Sing anaesthesized the hamster and his little ears were irrigated to flush out the sand).

I've since then stopped all bathing sand and switched to towel as bedding for all my hamster. I rule out the possibility of mites or mange as their cages are kept clean and i change their bedding twice a day. I wonder whether it will help if i were to purchase from your clinic the same medicine (pink & white colour to stop itchiness and prevent inflammation if i remembered correctly) to treat this hamster.

I've enclosed pictures of my hamster and I hope the above information is useful. Looking forward to hearing from you soon.

Thank you so much & wishing you a good weekend ahead :D

Best regards,

Jane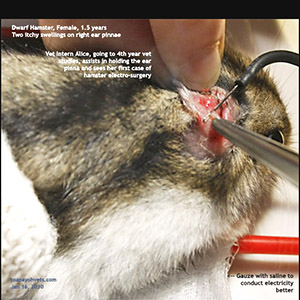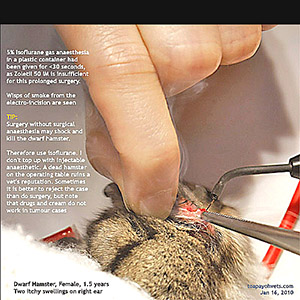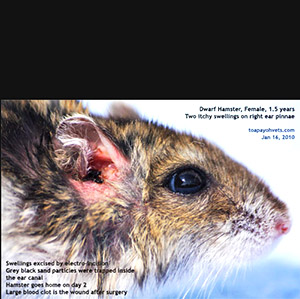 2. E-MAIL REPLY FROM DR SING BASED ON PICTURES EMAILED TO DR SING Jan 9, 2010

It is best to examine the hamster as e-mail pictures are not clear.
The lady brought her hamster for examination. The owner accepted my advice to excise the inflamed ear growths/tumour. The hamster went home on the second day to save the owner veterinary costs of hospitalisation. The owner's post-operation care is important. The dwarf hamster had electro-incision to cut off the 2 growths as shown below:
Watery liquid and black particles inside the ear canal were exposed during surgery to remove the lump outside the ear canal. Were they remnants of bathing sand? I don't know.
A big blood clot covers the excised ear area.
3. E-MAIL TO DR SING Jan 15, 2010
Subject: RE: For Doctor Sing (Enquiries on Dwarf Hamster - Ear Irritation)

Hi Doctor Sing,

It's been 5 days since i brought my hamster back and have fed her with the required medication on a daily basis. She's eating & exercising normally and looking at her ear, the little wound has dried up but she's rather sensitive whenever i tried to clean or remove the layer of dried skin which is in dark red or black color.

Just to check if i can leave it alone so that the dried layer will automatically drop off by itself? Or will there be a likelihood that she may accidentally push it further into her ear?

Thank you.

Regards,

Jane
4. E-MAIL REPLY FROM DR SING Jan 16, 2010

I just returned from overseas. The blood clot is the wound left over when the tumour/swelling in the lateral canal of the ear was removed. It will dry up later and replaced by new skin. Remove it slowly. Remove bit by bit with the smallest cotton bud (dipped in warm water). It is hard to say whether the clot will cause a problem, but I don't think it will.
P.S
2 hours after my e-mail reply, the owner phoned to say that the hamster started to scratch her ears. What to do?

In such cases, I asked her to hospitalise the hamster at my Surgery. Ear irritation can be difficult to treat in dwarf hamsters as they are such small ears compared to canine and feline ears. So, it is not surprising that most hamster owners can't manage the post-operation. The hamster was warded and the blood clotted wound in the right ear was cleaned daily for a few days. The hamster went home and the owner continued treatment. On Jan 23, 2010, she e-mailed me good news and a picture.
5. E-MAIL TO DR SING Jan 23, 2010
Hi Doctor Sing,
I've brought my hamster for treatment of her
ear infection
& outer growth on 10 Jan. She had smoothly completed her 1-week course of medication and I'm pleased to share with you her latest picture, recovering well :D
Tks again.
Regards

Jane