TOA PAYOH VETS
toapayohvets.com Blk 1002, Toa Payoh Lor 8, 01-1477, Singapore 319074

Tel: 6254-3326, 9668-6469,

9668-6468.

judy@toapayohvets.com
27 July, 2016 Focus: Small animals - dogs, cats, guinea pigs, hamsters, turtles & rabbits


Toa Payoh Vets
Clinical Research
ENTROPION IN THE CHINESE SHAR PEI - 2 CASE STUDIES

ENTROPION IN THE SHIH TZU - 1 CASE STUDY
Dr Sing Kong Yuen, BVMS (Glasgow), MRCVS
Entropion in the Chinese Shar Pei puppy cases were operated in: 10 April, 2004 Update: 27 July, 2016

Case 1. The Shar-pei sleeps all the time
Case 2. Entropion in the Chinese Shar-Pei
Case 3. Entropion in the Shih Tzu
Case 1. The Shar-pei sleeps all the time
"The Shar-pei puppy sleeps all day," said a pet owner who saw the puppy in my surgery. "Is this the same one from the pet shop?" I asked. She had visited this pet shop frequently and bought her puppy from this shop. This pet shop has such a wide variety of puppies and it was a pleasure for pet lovers to visit it as a variety of breeds could be seen and hence there were choices of which puppy to buy.

Tips for pet shop owners.
This was a strange case because the Shar-pei in the pet shop I visited had many interested prospective buyers but no closing when they saw the Shar-pei puppies being "sleepy" all the time.

According to the owner, his vet had told him that the puppies were suffering from conjunctivitis and therefore eye drops would do. But the puppy eyes still could not open as the puppies grew bigger. In this case, the puppies were suffering from entropion (an inward rolling of the eye lids) and therefore, eye drops would not be effective. A second or third veterinarian's opinion may be necessary for eye conditions that do not resolve in one month's time. Preferably less time than that.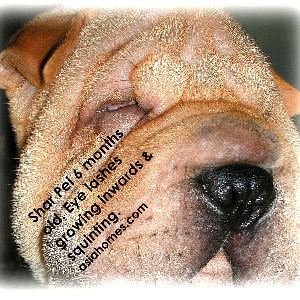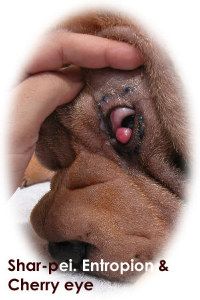 Case 2. Entropion in the Chinese Shar-Pei puppies at a pet shop in Singapore

The pet shop owner knew what his puppies were suffering from. Entropion - a rolling in of the upper and lower eye-lids. Every day, the Shar-pei would have yellowish eye discharge, squint and rub their eyes. The cornea had big ulcers. These were 8 weeks old, healthy and eating well. They were vaccinated two days ago and had just been handed to the pet shop.

He phoned me to get the pups operated. I was not keen to do so. These pups might die under the operating table as they were young.

The recommendation for anaesthesia of puppies is after 12 weeks old when they are stronger. Should I operate or wait? I advised waiting. Yet, every week meant pain for the puppies and the loss of a premium in their selling price. The older the puppy, the lower the sales revenue.

There are buyers. Yet, the pet shop owner cannot sell them when they have entropion as his reputation was very important. These puppies would need surgery and surgeries would be expensive for the buyer. It would cost around $400 or maybe less or more, depending on which veterinary surgeon you go to.

So, what should be the veterinary surgeon do for this pet shop owner and the suffering blepharospasm (eye muscles contracted) Chinese Shar-Pei?

For the pet shop owner, time is of the essence as puppies grow up fast and depreciate. In this case, if the puppies were operated early, they could command a premium price as Shar Peis are rarely available for sale in Singapore.

I happened to be at the pet shop vaccinating the puppies.

"Why don't you get the Shar-pei treated by the vet?" I asked the pet shop assistant. "It needed surgery to remove the excessive in-rolling eyelids. Nobody would buy this Shar-pei puppy." This Shar-pei had grown up to 6 months old and I felt sorry for him. He should be with a family rather than be in a cage.

Later, I phoned the pet shop owner. He said he had consulted a veterinarian and thought that the Shar-pei had eye infections. So he applied eye ointment religiously.

Actually, the Shar-pei's eyelids were rolled excessively inwards so that he could not see the world. Once the entropion operation was done, he could see more of the world. A big cherry eye was present in his left eye and a deep corneal ulcer was waiting to rupture in his right eye.

The Shar-pei had surgery and should be able to see the world with two good eyes. I hope he would go to a good home. Within 4 weeks, he was sold. If the surgery had been done much earlier, he would not have to suffer so much pain in the eyes.

The pet shop operator agreed to my advice to perform entropion surgery.

One of the 4 Shar-peis had a dry cough but was operated as it was costly to wait. All 4 were operated on the same day and the pet shop operator accepted the high anaesthetic risks of operating on puppies that were not having normal temperatures.

All four were all right at day 6 when I visited them for the 3rd time. The pet shop had closed for renovations and the puppies were housed in a clean room.

It was difficult for the pet shop girl to clean the eyes as I had asked her not to wipe the eyes. Earlier on, wiping had dislodged one suture.

"Just flush the eyes with water," I recommended. It was easier said then done. So, the eyes were a bit weepy. In any case, the Shar peis could see much better and should be able to find good owners and I hope, kind owners and a good home.

Electro-surgery is very useful in entropion surgery. Pet shop operators will look for the cheapest vet in town. Unfortunately, I was priced out by a younger vet in 2008. Her prices were very low. A service provider must remain affordable or lose the business of big pet shops and dog breeders.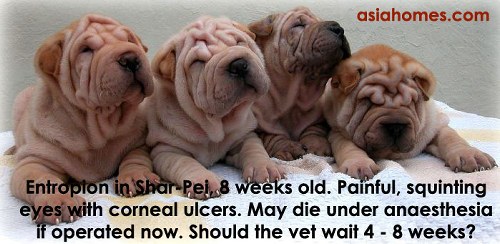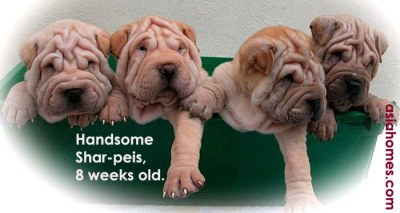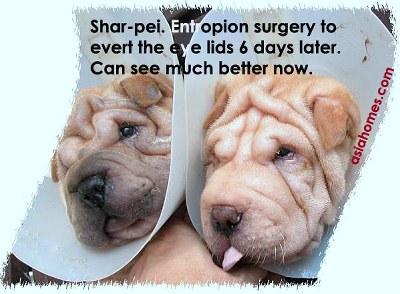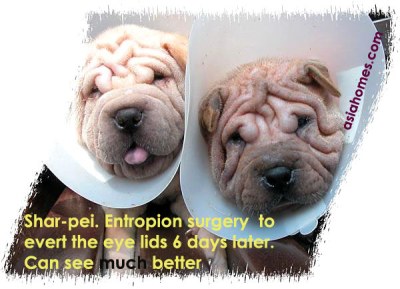 TO OPERATE AND RELIEVE THE PAIN IN THE EYES OR WAIT FOR 4 - 8 WEEKS WHEN THE PUPS ARE STRONGER TO TAKE THE GENERAL ANAESTHESIA AND HAVE LESS RISK OF DYING ON THE OPERATING TABLE?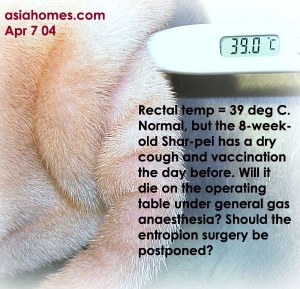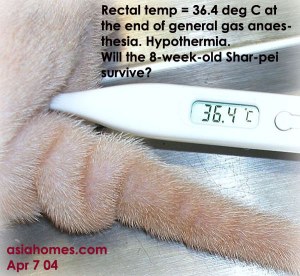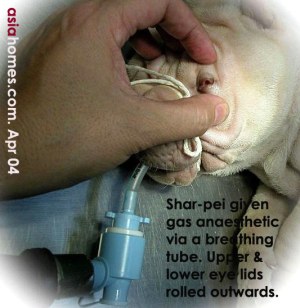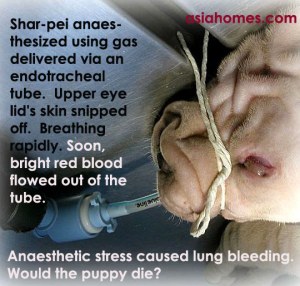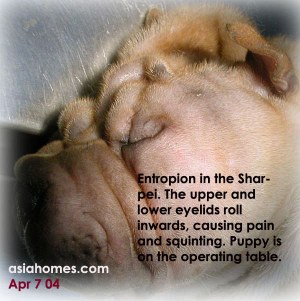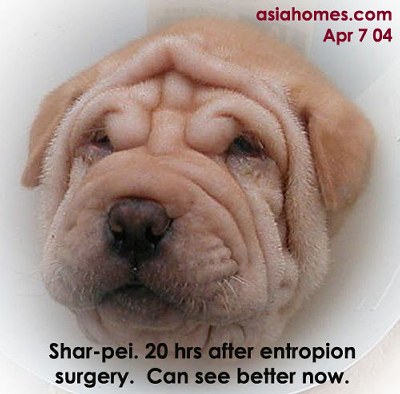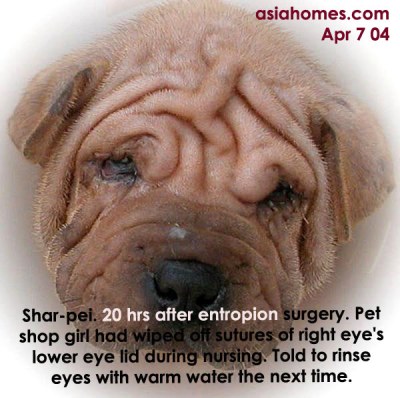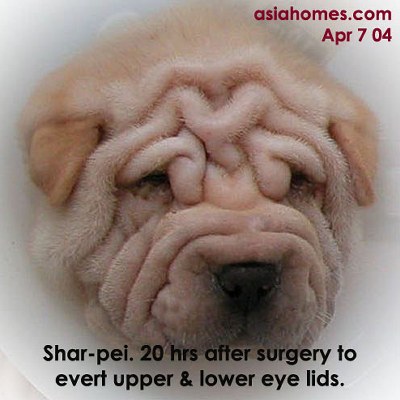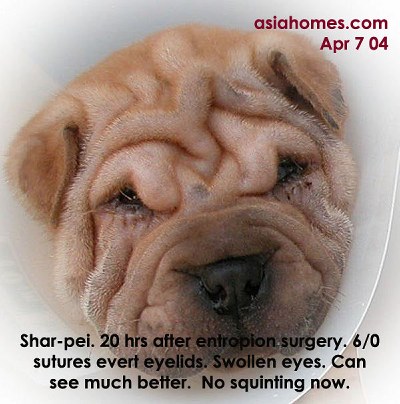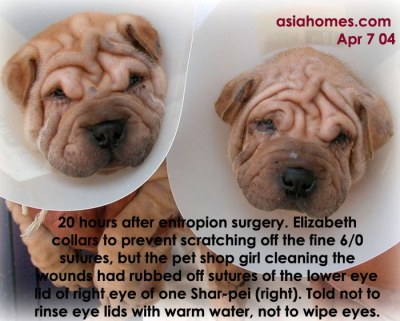 The pet shop owner sold the Shar Pei puppies soon after my entropion surgeries as they no longer had "sleepy" eyes. Update in 2016. Shar Pei puppies are rarely available in Singapore pet shops as the demand is not great.

Case 3. Entropion in the Shih Tzu
On Feb 2, 2010, a Filipino dog owner informed me that he had read about my entropion surgery about a breed (he could not remember) in my website. The website was about entropion surgery in the Chinese Shar-pei (shown above).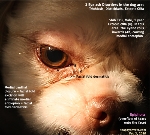 Some months ago, I had advised entropion surgery for his Shih Tzu as the puppy has tearing eyes since young.

The Shih Tzu has ingrowing eyelids at the medial canthus and entropion surgery and facial fold excision should resolve the problem of epiphora forever. I have taken a picture to review the case. This Shih Tzu has medial entropion and ectopic cilia on both eyes, like mirror images. I will be doing entropion surgery in 3 days' time.

After the young owner had told me about my articles, I searched my webpages and found the 3 webpages he was reading. They were written 6 years ago! How time had flown by.

In 2016, dog owners in Singapore are very sophisticated nowadays. They do extensive research about medical conditions prior to committing their dog to entropion surgery.
Blog: May 2013. The Chow Chow has entropion
Blog: Sep 2014. A Chow Chow had entropion
Blog: Jun 2011. Sharpei websites
Blog: Feb 2013. A cat has entropion
Blog: Apr 2013. a rabbit has entropion
More pet care info at: Dogs or Cats
To make an appointment:
e-mail judy@toapayohvets.com
tel: +65 9668-6468, 6254-3326

Copyright © Asiahomes
All rights reserved. July 27, 2016
Toa Payoh Vets