Continuing Veterinary Education

KNOW THE BASICS TO BE SUCCESSFUL IN YOUR LIFE
Dr Sing Kong Yuen, BVMS (Glasgow), MRCVS

June 19 - 21, 2008 Xiamen, China

An abalone farm operation occupying areas possibly 5 times bigger than Singapore's Sentosa Island? It is hard for the average Singaporean to imagine the vast size of the abalone operation of Oceanus, a company listed on the Singapore Stock Exchange in 2008.

I asked Dr Ng Cher Yew, the executive Chairman of Oceanus if he could permit me to visit the farms in Jun 2008.

Although I am a small animal veterinarian, I love knowing more about farming operations as part of my continuing veterinary education. Seeing other farming operations are refreshing for the mind and successful ones such as a intensive pig production in Hainan are educational.

Such visits of successful agricultural operations unrelated to my small animal surgery often give me new perspectives and introduce ideas which may be applicable to my small animal practice.

In this abalone farm visit, a second-year Murdoch University vet student accompanied me. This would be a rare opportunity for him to see veterinary medicine in action. Making veterinary knowledge alive to a vet student is not always practical for a University as there are constraints of time and money and the availability of operations to view.

I wanted this 22-year-old youth to see the real world of farming operations - the challenges and solutions in large food producing operations. In the process, he might appreciate the breath and depth of veterinary medicine first hand.
Xiamen, China in summer is more beautiful than Singapore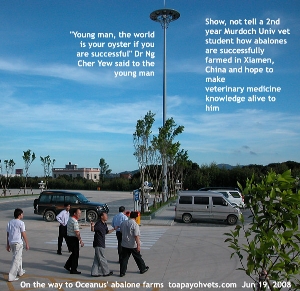 A young man starts a journey to become a vet
Abalone farms must be near the sea to be cost-effective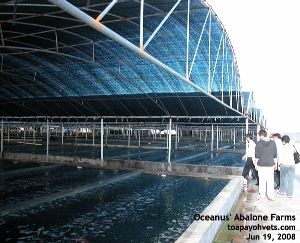 Tanks full of abalones
Sea water must be of the highest quality for abalones. Sea is equivalent to air for people to live and thrive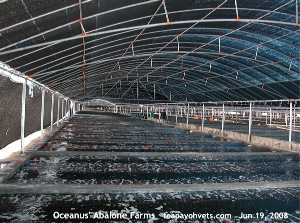 Well aerated sea water with the right temperature
Baby abalones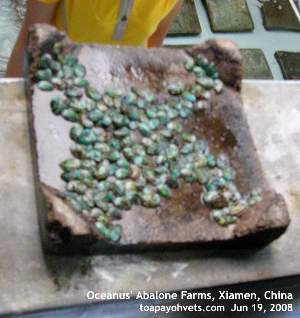 Baby abalones growing on tiles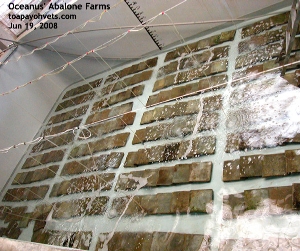 Tiles are homes to baby abalones
Aquaculture will be one subject of study, possibly. I hope he would then recall his visit to China and find his lectures much more fascinating and relevant in a world of rising commodity and food prices.

We visited 4 farms near the sea with Dr Ng. Each farmland was big and would take at least 2 hours if we were to walk and see every tank.

These 4 farms total an area probably 1 Sentosa Island and Oceanus is said to have more than 20 of such farms. That would conservatively be 5 times as large as Sentosa Island but I am not sure of the size of the farms. Singapore's high technology agri-parks in Pasir Ris and Lim Chu Kang combined look miniscule in size in comparison.
We were fortunate as Dr Ng, a veterinary graduate of Murdoch University some 20 years ago had time.

He explained to us abalone farming in English. In China, communication is in Mandarin or the Chinese dialects and English-educated Singaporeans may not be fluent in Mandarin.

We arrived on Jun 19, 2008. Xiamen city looks modern with numerous construction projects of apartments. The streets are free of litter. After a lunch in which I remember that the clam was tasty and of good quality, we drove to the farms situated some 2 hours from Xiamen downtown. We visited 3 coastal farms on Jun 19 and one on Jun 20.

"How are abalones raised in the farms?" I wanted to know during a breakfast on Jun 20, 2008. There were so much about farm-raised abalones I would like to know as Singapore is a small country and does not have intensive aquaculture and the few chicken farms are off-limits to the average Singaporeans due to "bird flu" disease precautions.
"Excellent quality of the sea water is important for abalones, just like clean air is important to people and animals. If you can master the basics of how to keep the sea water of the highest quality, you can be successful in this abalone farming."

Fortunately he had time to present a long after- breakfast talk to the 22-year-old boy from Murdoch University, elaborating on many factors essential to success in a large-scale business, life or career.
He is a natural motivational speaker if he wants to be one as he is backed up by around 15 years of hands-on China experience in the commercial world.

"If you are successful, the world is your oyster," he told the young man after explaining the dog-eat-dog world of business where lowest selling price but highest quality of the abalone are the determining factor in sustained profitability in the global market. Size of the production matters as there is economies of scale.

How should a young man start out to be an entrepreneur?

"The best age to venture out to do your business is around 30 years of age when you are more mature" Dr Ng said. "You learn and network by working for a multi-national company after graduation for a few years. Then you start your own business. You have nothing to lose at this age."

Dr Ng continued, "When you are in your 50s and are still working in a multi-national company, you are too highly paid. You worry about your job as the younger employees will replace you.

"These young ones cost less to employ and they work much harder than you. Soon you become redundant.

"Nobody wants to employ you as you are too highly qualified and unaffordable. If you accept a lower salary, you will not stay long in the company."

"So, those over 50 years old can never make it as successful entrepreneurs?" I asked.

"Unlikely," Dr Ng said.

"Of course, if you have a good professional degree," Dr Ng laughed as he nodded towards his slim accountant beside him, "You can never be unemployable."

He had a good accountant. She was a quiet slim lady who was present for the board meeting in Xiamen. She must be good in her professional job otherwise she would have been retrenched.

The commercial world is brutal. Laggards, inclusive of professionals who are employees can be out of a job as the commercial world demands performance and is not charitable towards weaklings.

It is a ruthless world of the big fish eating the small ones, as in nature. Only that in the human predatory world of commerce, there is the acquisition and mergers of small companies by the big boys such that it is better for a small company to be a small fish in the sea rather than being a big fish in a pond.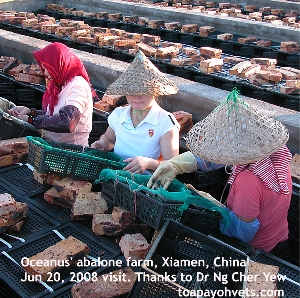 Abalone Farming in Xiamen, China.
Transferring baby abalones to cages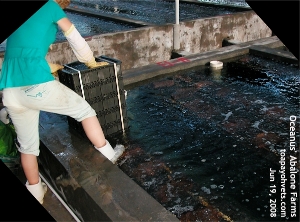 Cages are checked to cull slow growers,
introduce new seaweed weekly
Abalone loves seaweed (kelp?)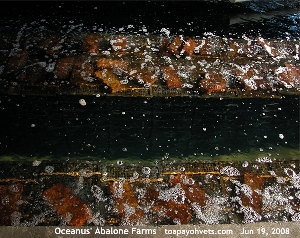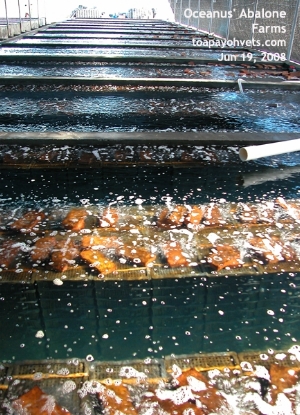 "How about working for the state veterinary department after graduation?" I asked as I had to work for the government for 8 years after graduation to serve out a bond.

"Civil servants are not close to the customers," Dr Ng said. "So, it is hard to gain the relevant sales and marketing experience that contribute so much to (entrepreneurial) success."

This breakfast meeting was worth a lot of money to management trainees and those interested in business in China as much advices not printed here were dispensed by Dr Ng.

Dr Ng looked at the young man and said, "Ask Why Not? Just because a procedure is done successfully, it does not mean that it should carry on as usual. There may be better ideas to cut down the costs of abalone farming and processing. Cost competitiveness is the keyword to success and if the product is not competitively price, nobody will want to buy it in large amounts."

Behind every successful entrepreneur, there are thousands of failed ones. It was fortunate that this young Murdoch University student was given some tips from a successful veterinarian.

This Xiamen trip opens up my mind. Back to the basics. What are the basics? One must know what are the basics to be successful.
Mastering the basics of any venture/career work/study is important. But the person must know how to do it. How to execute the ideas successfully is the most difficult challenge.

P.S.
Did this young man learn anything about being successful in a career or business after the Xiamen trip?

On July 11, 2008, the young man wanted to borrow his mum's mobile phone as his phone's batter was drying up and he was meeting his friends for dinner at the Ang Mo Kio hub at 7.00 pm.

His mum was reluctant to part with her phone. I said to the young man, "Ask her why she would not lend you the phone?"

"No," he said. "Ask why not?" I was testing him and he had actually remembered this portion of Dr Ng's lecture.

P.S. "Why Not" is a book interesting to business people - I can't remember the author.

---


SOME TECHNICAL INFO WHICH NEEDS TO BE CONFIRMED LATER.

Many abalone farms failed because the water quality supplied to the abalone was poor quality. For example. the outgoing sea water gets discharged near the incoming sea water meant to fill the tanks. This basic applies to all aquaculture and when the farmer loses sight of the basics, the farming business fails.

Breeding stock - not from Oceanus farms. Sourced from elsewhere. Reared in an island.

Rearing stock - not used as breeders to prevent inbreeding and therefore poor quality stock in future.

First 2 months after hatching. Baby abalone attached to the plastic films for the first 2 months. Sea water and formulated feed. Mortality may be high if conditions are not right.

Month 2-8. Abalone put on tiles. They attach to the tiles by suckers. Cull poor growing ones. Sea water and formulated feed.

Month 8. 35 abalones put inside cages. Ideally, should be around 30 pieces. 8 cages per column. Sea water within 6 hours to fill up tank. Seaweed fed. New seaweed once a week. Water changed 20% per day but whole water change once a week.

Seaweed sourced, delivered to farm. Checked. Kept in a tank for a few days. Ensure no crabs as they eat the abalone.

Nets to cover up the tanks to prevent heat during summer. Xiamen is not very cold. Around 3 typhoons per year but no effect on abalone farming. Strong sea breezes ensure strong currents which remove waste and bring in oxygen and maintain a excellent water quality.
Nets, rather than solid roofs are cost-effective
in keeping the abalones cool in summer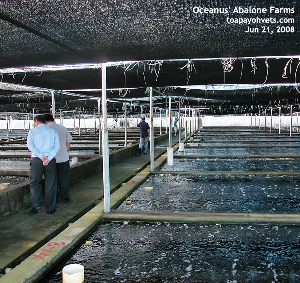 Abalone Farming in Xiamen, China.
Older abalones in cages, probably 1 year old?
Copyright © Asia USA Realty All rights reserved.
Revised: July 11, 2008
Community Education: Be Kind To Pets