Many times, it is a death sentence when the pet dog produces urinary stones again as the average Singaporean dog owner feels that the surgical treatment, hospitalisation, nursing care and medication from around S$900 at Toa Payoh Vets to over $2,500 elsewhere are "expensive". Unfortunately, urinary stones do recur in some dogs such as the Miniature Schnauzer.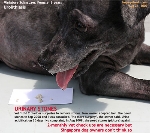 Some tips to prevent recurrences of struvite stones are:
1. BREED. Breeds like the Miniature Schnauzer are prone to producing urinary stones. Urinary examination at least 3-monthly will be ideal. If not, during the yearly vaccination, ask your vet to do a urinary analysis to check for urinary crystals.
2. DIET. No dry dog food definitely. No canned foods or treats. Special low stone prescription diet or home-cooked food.
3. URINE pH, S.G, Red and White Blood Cells measured weekly using dipsticks in collaboration with your vet.
4. WATER INTAKE. Measure diligently and scientifically 24-hourly water drunk in collaboration with your vet. Some sedentary dogs need to be encouraged to drink by more exercise or supervision.
5. ACIDIFICATION OF THE URINE if the urine pH is 7.0 and higher in collaboration with your vet.
6. BLADDER PALPATION. If stones or a crackling gassy sound are felt, it is bad news. Consult your vet promptly.
7. Early detection of blood in the urine and treatment. Small struvite urinary stones may be dissolved using the prescription struvite diet. Some owners ignore the blood in the urine till the dog cannot pee.
The following shows two female dogs that had blood in the urine.